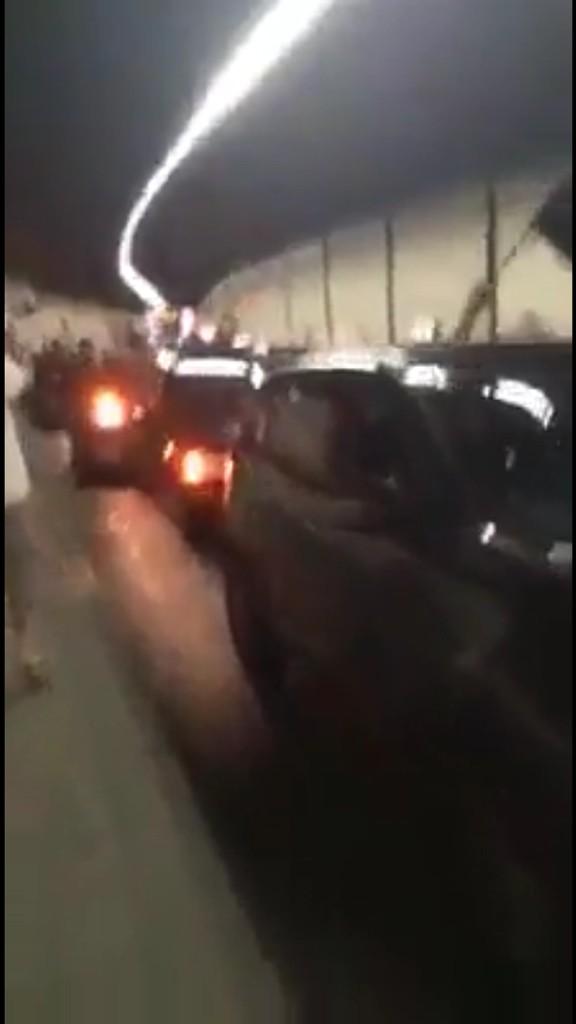 The number of those who are still under the illusion that Islam is a religion of peace must surely dwindle after viewing the pieces of video below, and seeing the accompanying photographs above.
On Monday morning on the 28th July 2014, the supporters of Jihad and genocide openly came out onto the streets London or more specifically the Blackwall Tunnel, one of the major crossing routes for vehicular traffic underneath London's River Thames.
According to accounts on social media, especially one from @MartinTheSpur on the Twitter timeline of Orli Sagi ( @SagiOrli ), a group of Muslims blocked the Blackwall Tunnel and shouted slogans in support of Hamas, the Iraqi/Syrian Jihad group, ISIS and 'free free Palestine'.
Click on the link below to view footage of the demo from Facebook
https://scontent-a-lhr.xx.fbcdn.net/hvideo-xfa1/v/t42.1790-2/10288996_10204749967971361_1228738310_n.mp4?oh=9e142097d1f5da0d80c51b0160ae4703&oe=53D7A87D
The flag of 'Palestine' was flown but also more ominous was the flying from a vehicle of what appears to a black flag of Jihad. For these savages to block the Blackwall Tunnel in order to show support for Islamic terror organisations that have killed thousands of people in Iraq and Syria and who have used children as human shields in Gaza, shows us the arrogant mentality with which we are dealing.
Click the link below to see footage from LiveLeak showing this demonstraton. This video also shows both the 'Palestine' flag and a black flag of Jihad being flown from vehicles.
http://item.liveleak.com/2/view?i=ff8_1406589926&comments=1
To pull a stunt like this on a part of London's road system that is extremely well covered by CCTV and other monitoring equipment shows a high level of arrogance and stupidity. This is Islam in Britain, showing an arrogant belief that they can block one of London's major thoroughfares, thinking that they have an entitlement to have complete disregard for the rights of others and get away with it. With the levels of security equipment fitted to Blackwall Tunnel it should not be difficult for Police to identfy those vehicles that took part in this protest. The drivers of these vehicles have deliberately and without cause impeded the flow of traffic through the tunnel. They should be nicked, if they are not then there is something gravely wrong with the Metropolitan Police. Even more worring, instead of carrying the flags of terror organisations, these savages could have been armed with firearms or bombs.
If there are arrests following this demonstration I wonder how many cars belonging to these Muslim protesters will be siezed by the authorities, because you can virtually guarantee that if a counterjihad protest took place in this manner, the vehicles of protesters could be at risk.
The account on LiveLeak implied that this was not a small demo and that 'loads' of people got out of their cars and started chanting. If this account is correct then it shows us that support for violent Jihad is becoming less and less a minority interest among Muslims in Britain.
It's long past time for those who we pay to serve and protect us to start getting all medieaval towards these Islamic jihadist arses. That they do not seem to be doing it, is an utter scandal.
This was a dangerous and provocative act by the supporters of Jihad and it is impossible to see this 'protest' in any other way.