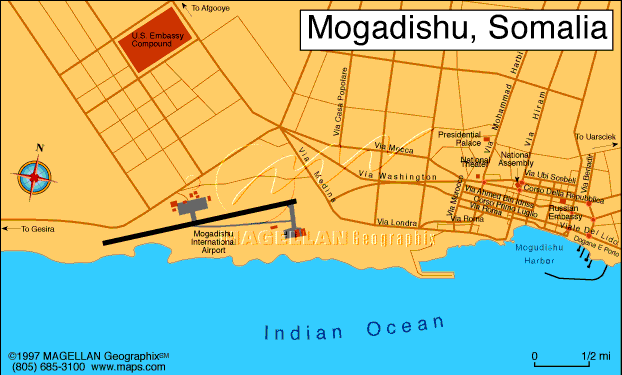 And as we move through another day, and just like the regularity of sunrise and sunset, so do we see Islamic violence happening yet again in yet another place.  For a 'religion of peace' Islam sure does produce a lot of dead bodies.
From Associated Press via Brietbart
Somalia's Islamic extremists attacked a hotel at dawn Sunday in the capital, Mogadishu, killing at least nine people and injuring 10, a police official said.
The attack started at daybreak when a suicide bomber detonated a vehicle laden with explosives at the gate of the Sahafi Hotel and then gunmen on foot ran into the hotel and shot at people, Capt. Mohamed Hussein said.
"They have killed the owner of the hotel, a former military general, and other officials during the attack," Hussein said by phone from the scene as gunfire could be heard in the hotel.
"There's a hostage situation inside the hotel," Hussein said.
A second explosion came from a car bomb outside the hotel, said witnesses.
Al-Shabab, the Islamic extremist rebels waging an insurgency against Somalia's weak U.N.- backed government, claimed responsibility for the attack through the group's radio Andulus. The fighters infiltrated the hotel and are still in control of the building, Sheikh Abdiaziz Abu-Musab, al-Shabab's military spokesman, told the radio station."
When is the world going to wake up to the fact that the 'religion of peace' is anything but peaceful?