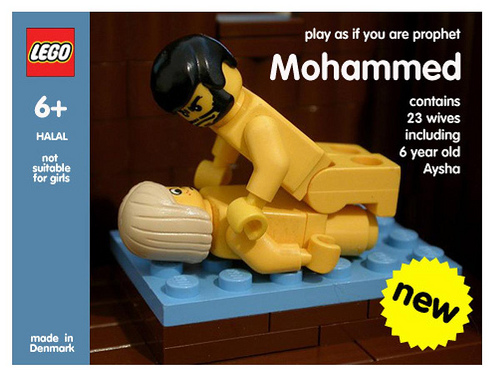 Many people, especially patriots, would have been very disturbed to find that an Islamic extremist preacher was planning an 'Islamic family fun day' at the Legoland theme park in the United Kingdom. Although it is Legoland's right to hire out the park in off season to whatever private hirer they choose to accept, in this case they appeared to take the booking without checking details of who was hiring the park.
It was very silly of Legoland to hire out their facilities to a known hate preacher, Haitham al-Haddad and his front group, the Muslim Research and Development Foundation. However, in the face of a massive campaign the Legoland organisation has withdrawn the booking for MRDF which was to have taken place on 9th March 2014.
According to the counterjihad blogger Kafircrusader, (who broke this story) Legoland has used the excuse that threats have been made to Legoland to force them to drop the booking. Personally I think that the 'threat' line has been trotted out by Legoland in order to justify cancelling a booking that they really shouldn't have taken in the first place.
I would guess that even if there were threats of violence or disruption made to Legoland then these threats would have been very much in the minority, but it sounds good in the press to emphasise the 'threat' angle. I would assume that what has exercised the minds of the Legoland management is not one or two people making unrealistic and non-credible threats of violence and disruption, but the fear that taking the booking from al Haddad, would later have a knock on effect on their profits during their busiest times. Legoland must have had reasonable fears that taking this booking would anger the ordinary Briton so much that calls for a boycott of Legoland would have grown louder and louder. To cancel the booking citing fears of a future boycott could have meant that Legoland would be liable for a breach of contract, but citing fears of violence means that they have reasonable grounds to refuse the booking.
So well done to all those who politely and non-violently told Legoland where they were going wrong and it also shows that Islam-creep and extremist front groups like the Muslim Research and Development Foundation can be attacked by the consumer power of non-Muslims.
I certainly would have not taken children to Legoland if this event had gone ahead, because I don't like giving money to entities that appease Islam, and I gather that many others would have felt the same.
Threatening to withdraw custom from Islam appeasers is a major weapon in the counterjihad armoury and it appears that this is what is most likely to have happened in this case. I concur that the 'threats' were a secondary concern to the fears that a boycott of Legoland would hit their profits.