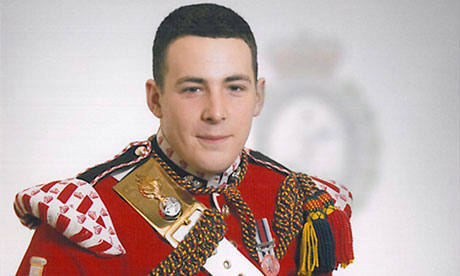 REMEMBER LEE RIGBY WHEN YOU VOTE
The courts have spoken and the Muslim murderers of British soldier Lee Rigby have started life sentences. One of them, Adebolajo got a whole life sentence and the other scumbag, Adebowale got a minimum of life with a minimum term of 45 years, which is in effect a whole life sentence. The final disposal of this case was held up while Judges in the Court of Appeal decided whether or not the whole concept of 'whole life sentences', which are reserved for the worst sort of offenders, was compatible with EU human rights rules.
It is good that the two Islamo-murderers will never again be allowed out on the streets again and that the family and friends of Lee Rigby will at last have some form of closure.
However, the permanent clanging shut of the cell doors on these two Islamo-scum should not be the end of the case. There is still the matter of those politicians who appease Islam and who by their actions allowed radical Islam to grow like a cancer in the United Kingdom. Such people by their policies have created the current appalling situation.
The death of a British solider on a London street is so horrific that it requires some form of vengeance. Not the sort of vengeance that involves burning down mosques or attacking random Muslims in the street, that would be wrong, but instead political vengeance. In May 2014 there will be elections in Britain for seats at the European parliament and certain local authorities. This will be your chance to vote out those representatives who pander to Islam.
Find out which of your candidates are sucking up to Islam and vote against them. Vote against the Labour Party which opened the doors of this country to mass and unwanted immigration. Vote against David Cameron's Conservatives because after the Lee Rigby murder Cameron was straight onto the airwaves to speak gross untruths such as 'nothing to do with Islam'. Vote also against the Lib Dems who so often pander to Islam and want to hand over the country to unelected bureaucrats in Brussels. Vote instead for independents and those non-racist parties that are sceptical about Islam.
Never forget Fusilier Rigby and never forget the politicians who let him and the rest of us down.
Avenge Lee Rigby at the ballot box. Make the politicians pay for their pandering and their errors.
Links
Wiki on Local Elections 2014
http://en.wikipedia.org/wiki/United_Kingdom_local_elections,_2014
Wiki on Euro elections 2014
http://en.wikipedia.org/wiki/European_Parliament_election,_2014_(United_Kingdom)